2017 ESPYS: 5 Things to Know Before the Year's Top Athletes Take Center Stage
Suit up! It's finally time for the 2017 ESPYS. 
Scores of your favorite athletes (professional, collegiate, Olympic and beyond) will head to Los Angeles' Microsoft Theater later this evening for the prestigious event honoring standout sports performances from the past year. 
The best of the best from the highly competitive worlds of football, baseball, hockey, NASCAR, basketball, boxing, golf, tennis and more are vying for your vote in 33 different categories, and let's be honest, it's anyone's game this time around.
And if sports aren't necessarily your cup of tea, have no fear! Plenty of famous faces including Bryan Cranstonand Samuel L. Jackson are expected to turn out for the big event. Plus, given Taylor Swift 's surprise appearance at the 2017 NBA Awards, there's no doubt the ESPYS will merge the best of both worlds for a star-studded show. 
Check out five things to know about the 2017 ESPY Awards below: 
John Leyba/The Denver Post via Getty Images
1. Meet the Man of the Hour: 
Following in the footsteps of last year's host John Cena is NFL legend, Peyton Manning. It's quite the full circle moment for the since-retired Colts quarterback and two-time Super Bowl champ—back in 1998, Manning took home the Best College Football Player Award. The rest, as they say, was history!
2. Former FLOTUS in the Building:
Can we get an amen? Michelle Obama is heading to the ESPYS! She will posthumously honor Eunice Kennedy Shriver, the founder of Special Olympics, with the Arthur Ashe Courage Award. Additionally, Jon Stewart will present the Pat Tillman Award for Service to U.S. Air Force Master Sgt. and Invictus Games gold medalist Israel Del Toro. Cranston will recognize legendary L.A. Dodgers announcer Vin Scully with the Icon Award.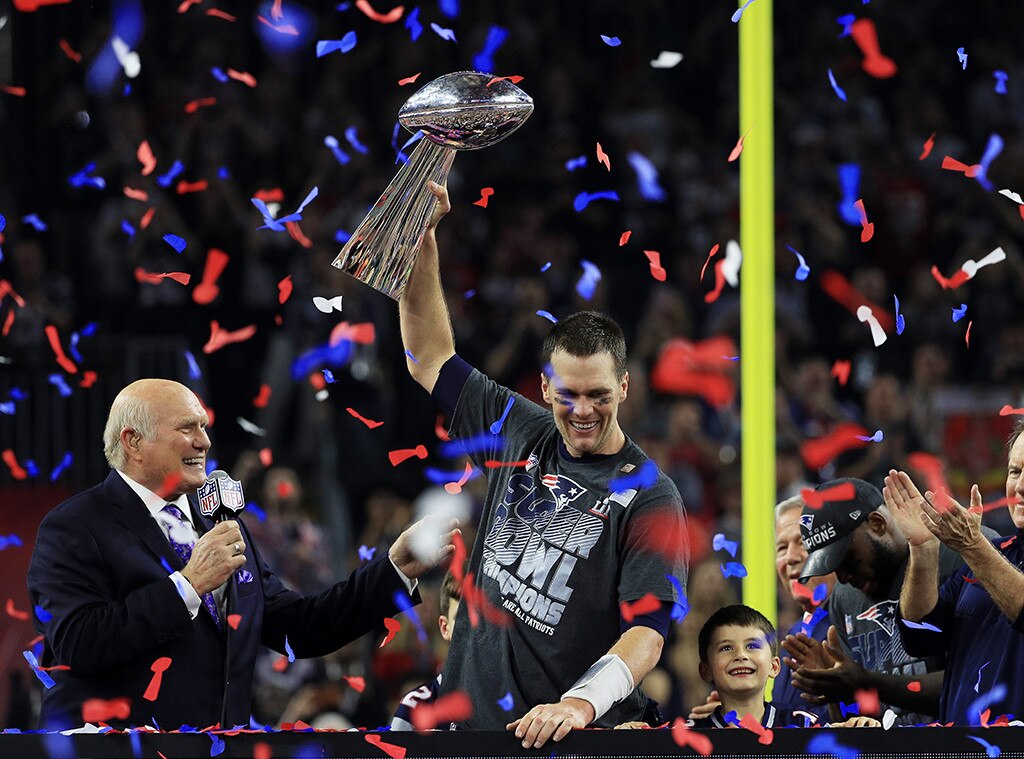 Mike Ehrmann/Getty Images
3. Welcome to the Winner's Circle:
Could the New England Patriots continue their winning streak? One look at this year's nominations pool and the answer is a resounding yes. Thanks to their win at the 2017 Super Bowl, the powerhouse franchise leads the nominations pack with five total nods. Tom Brady is up for Best Championship Performance and Best NFL Player, his team up for Best Game and Best Team, and coach Bill Belichick for Best Record-Breaking Performance.
4. Speaking of Nominations…: 
This ESPYS round of sports talent is completely stacked. Michael Phelps, Russell Westrbook, Sidney Crosby and Kris Bryant will compete for Best Male Athlete; Simone Biles, Serena Williams, Katie Ledecky and Candace Parker rep the Best Female Athlete lineup. 
5. A Story of Perseverance: 
One inspiring teen will experience the moment of a lifetime when he receives the ESPYS' Jimmy V Perseverance Award. Jarrius Robertson, 15, is battling a chronic liver disease, but it's his loyalty to the New Orleans Saints that has made him a beloved fixture and sideline cheerleader throughout football season. 
The 2017 ESPYS broadcasts on ABC and streams online at WatchESPN at 8 p.m. E.T.
Brand new images of hand stitched and curated denim by manier  brand's very own Maximillian Manier have surfaced!
Being the innovator of the renound- "self titled-seasonal wear" alone has mapped out a sure fire and trail blazing route to atop any list of up and coming designers.
His designs include reworked masterpieces which mainly consist of Levi's Brand denim, although there has been verifiable accounts (as well as the D.S.D exclusive pictures we've featured below!) of Maximillian working on mock ups with what some have identified as Embellish Denim. Which may have surfaced on either's social media accounts (links below).
Maybe it's the ever-changing names, or maybe it's the superior hand craftsmanship that will forever be synonymous with either brands. One thing is for certain is that regardless of the times or collab at hand, Manier is a force to recognize and reckon with. I'd keep a close look out for a chance to snag any limited production pieces for the up and coming 2020's!
instagram.com/maximillian.manier
Hello Young World…
I just want to take the time on behalf of the whole D.S.D  Family to thank our Founder and President,
Travis J. Cotton.
An excellent business partner, philanthropist, and all around great person!
Travis not only continues to takes the initiative to curate, troubleshoot, and post consistently, he does so with a finesse that is incomparable. All despite his never ending business engagement! I'd like to say I speak for everybody in our company and niche community by saying,
Thank you Travis.
Im gracious personally for the amazing opportunity to join the D.S.D Family, and will prove to be an excellent addition bringing the world the latest in trendsetting, and pace makers!
Meek Mill Names Best Philly Rap Group, Reveals His Wedding Day, Defends Eating Groceries + More In After Dark Q&A
Maybach Music Group's Meek Mill is giving fans exactly what they want and then some. The hip-hop veteran has delivered an epic Q&A session with his Twitter followers.
On Sunday, Meek weighed in on everything from marriage plans and Philadelphia rap groups to his current music plans.